Blas
Our café is open Thursday – Monday serving traditional Scottish cooked breakfasts, through to morning coffees, lunches, afternoon teas and evening meals. Last orders for takeaway is 6.30pm.
We source our meats locally from Lochalsh Butchers, our venison is from a local Skye gamekeeper and our fish is from the local fishmonger Andy Race. We buy coffee from The Inverness Coffee Company and from Skye Coffee Roasters. We also have a great selection of teas from The Edinburgh Tea Company.
what three word locator: ///apply.deflect.idealist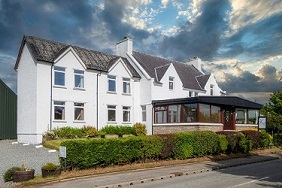 Atholl House
Non-residents are welcome to our licensed lounge, dining room and outside tables to enjoy a selection of drinks including local beers, whisky and hot drinks or a relaxed evening meal. Booking for evening meals is available for non-residents up to 3 days in advance and is strongly recommended.
Telephone – 01470 521810
what three word locator: ///waxing.minute.strongman

Idyll Waves Ltd
Take away situated at the entrance to Kinloch Campsite.
Open Tuesdaty – Sunday 5.00pm – 9.30pm.
Email: idyllwaves;td@gmail.com 

what three word locator:///manifests.comet.lake