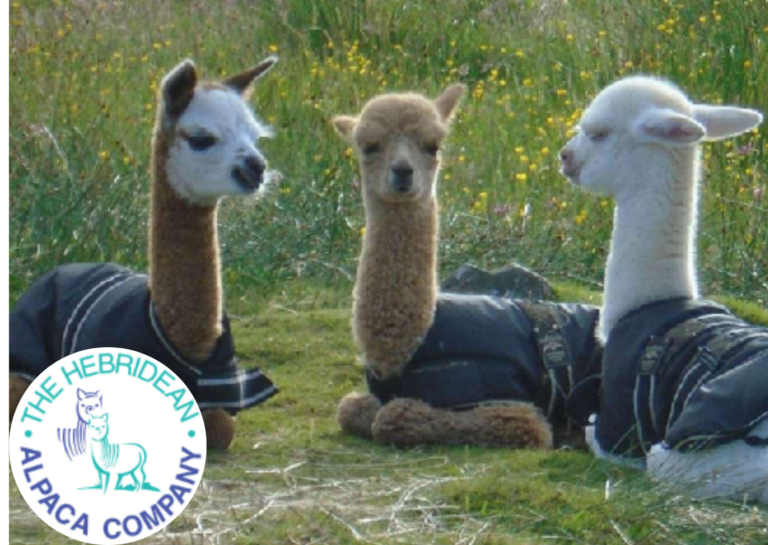 The Hebridean Alpaca Company
We are the largest stockist of alpaca yarns and accessories in the Highlands. As well as producing beautiful natural yarns from our small herd of alpacas kept here on Skye, we search far and wide to bring you quality alpaca items at reasonable prices.
As well as our own yarns, we stock fairly-traded scarves, socks, hats, gloves, wraps, blankets, yarns and jewellery from across the globe.  In addition, we now supply alpaca duvets and pillows made in the UK using only UK alpaca fibre.  You will also find a selection of unique gifts and cards to choose from.  We aim to stock items you will not find repeated elsewhere on the island.
what three word locator: ///growl.ocean.baked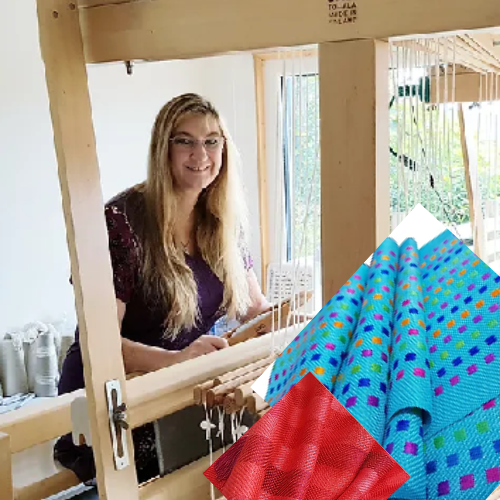 Skye Silks
Skye Silks produces high quality artisan silk textiles.
Jaine Mahon has her studio on the edge of Dunvegan overlooking the MacLoeds Tables on the Isle of Skye.
Inspired by the colours of the ever changing landscape, Skye Silks offers scarves and other silk textiles which have been hand yed and hand woven as well as a range of Arashi Shibori silk scarves.  Arashi Shibori is a Japanese resist dying technique which creates pleats in the fabric.
what three words locator: ///email.breathy.diver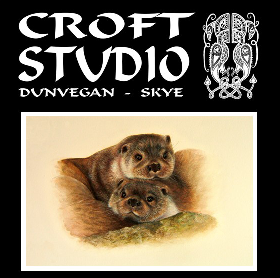 The Croft Studio 
Situated on the Portree Road in Dunvegan you will find our 100 year old croft house, home to our working studio and gallery home since 1968. If you enjoy pictures of wildlife, Celtic art, and spectacular scenery of Skye, come and see a wide range of art by Pamela Budge.
Watercolours, Oils, Pastels, views of Skye, and Wild life  Prints and Cards.

Open all year
what three words locator:  ///police.discloses.universes
The Giant Angus MacAskill Museum
The Giant MacAskill Museum opened in Dunvegan in 1989, and features a model of Angus, sculpted by Joe McTaggart. Giant Angus is considered to be the world's tallest ever 'true' giant – he was 7ft 9in in height. Panels on the walls of the museum detail some of his feats of strength, with translations available in Dutch, French, Gaelic, German, Italian, Chinese and Spanish. There are also replicas of his bed, table and a chair. The originals of these are on display in a museum run by the Giant MacAskill Heirs Association in Englishtown, Nova Scotia.
what three words locator: ///kilts.troubled.stockpile
Cath Waters
Cath Waters is an award winning Scottish landscape digital artist and photographer living on the Isle of Skye.
The inspiration for Cath's landscape work comes from the special places she finds on her travels around Scotland as well as the beauty surrounding her home on the Isle of Skye.
She loves the wide open spaces, vast heavy skies and low light of the Scottish West Coast and the Hebrides and tries to capture the essence of these perfect places.
There is a sense of simplicity, space and solitude in her work, which often features the unique calming colours of the Scottish land and sea – soft greys, emerald greens, muted blues and purples.
During the summer open 10.30 – 5.30 seven days as week.
what three words locator: /// boarding.quirky.headphones
Karen Davies
Karen Davies welcomes visitors to her working studio overlooking Loch Vatten on the Harlosh Peninsula. Original works in Encaustic and mixed media.  Inspired by stories of the land, the wild and beautiful Isle of Skye and the Highlands.
Demonstrations, workshops and commissions.  Her work is also at the Skyeworks gallery in Portree.
Eunoia Studio
3 Aligro 
Harlosh 
Dunvegan 
IV55 8ZQ 
what three words locator: ///